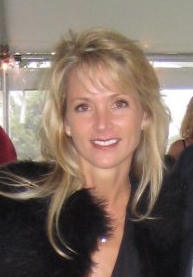 Krista Randall's strong love for animals has been lifelong. She grew up overseas rescuing stray animals at a very young age,then moving on to an equestrian boarding school.
She is a nationally certified all breed Dog Groomer, graduating from Pedigree Career Institute in Boston,MA. She is also certified with the New England Pet Grooming Association and certified in Animal CPR.
Krista worked for Dr.Jon Leach as an officer manager and head surgical technician at the Barnstable Animal Hospital. Recognizing the need for in house grooming facility she opened "Best Pet Grooming". Then in 1986 she opened the most successful grooming salon on Cape Cod for 16 years,"Whiskers Pet Grooming" which also served as a grooming school where she trained several of the Cape's popular groomers.
In 2005 Krista moved to St Augustine Florida, to open "Park Avenue Paws" which was awarded "The Best Grooming Salon" in St Augustine by the city and the Chamber of Commerce! She writes a column in the Creative Grooming Quarterly magazine to continue to teach groomers internationally for the National Association of Professional Creative Groomers. She has attended The Westminster Kennel Club Show both as a spectator and a stylist for the past 14 years.
Krista is extremely active with many animal rescue groups and has 3 rescues of her own. Two Brussels Griffons and a Labrador. Most of all she feels very blessed to be able to fulfill her passion and work with animals everyday!